Korean Black ops;
storming in Asian girls hearts
Weekend is here, so how about watching Koreans black ops who rule the hearts of viewers past years, they ruthlessly waver the heart of Asian girls and blow the mind with perfect twisted stories.
City Hunter (2011)
First up Lee Min-Ho (Lee Yoon-Sung) acting as a National communication network team for blue house, well series of lead him to avenge his father death from five Korean council member who was killed his father along with several soldiers to cover up their mistake.
Each member of the Council have achieved significant wealth and political influence after the incident of killing his father, and become most corrupted member of society.
He decided to show them a lesson and expose their corruption without killing them due to this the Korean citizen sense a force of justice from him and named him "City Hunter.
Healer (2014)
Now if you familiar with the term errand boy, how convenient it would be if your parcel get deliver at any destination without hitch.

Well there you have Ji Chang Wook starring as Seo Jung Hoo. He is a night corrier
He will do any task for a price except the fact that task is not related with a murder. He's professional name is "Healer"

His side kick is a genius hacker an old women who take care of all the technical part.Many organization tries to catch him but no one really know his real identity. 
Now, now he may look professional in his work but he is just a child from the heart.
Descendent of the sun (2016)
Well the drama title does suit the main lead as he is just so "Hot".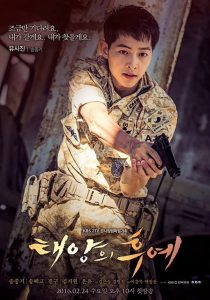 Song Joong Ki as Captain Yoo Shi Jin, despite his rank his humor knows no bound. Experiencing love for the first time the drama contain sweet warm army romance between a special force captain and thrifty volunteer doctor.
Faced with many challenges yoo shin jin overcome each obstacle as his motto is to protect citizen including child and women especially beautiful ladies.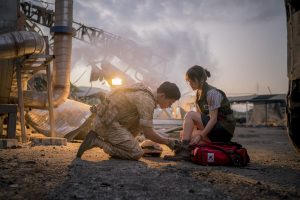 this drama is like a roller coaster between romance action and comedy. hope you watch these legend and enjoy your weekend..! \(>_<)/