Top 5 Free PDF Editor Software for Beginner
If you are a small time PDF editor then you will certainly want to use free PDF tools to get the PDF job done, right? Unfortunately, free PDF editor tools tend to be too many in the market with many promising a lot but they end up delivering very little if anything. Well, not all PDF editors are on this boat though as some free PDF editors are actually quite good. Talking of free amazing PDF editor software, we will be doing a free PDF review or rather, we will be covering those free PDF software that you should be using. So, read through and take some notes!
1. PDFescape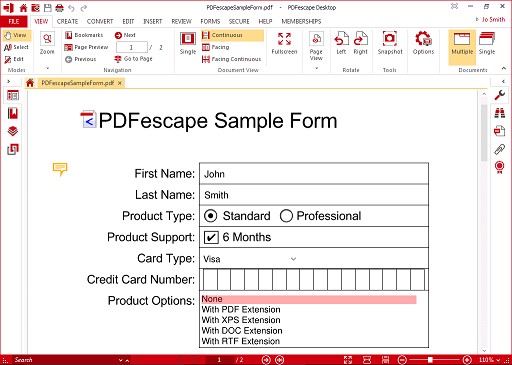 PDFescape is a PDF tool that works out of your normal browser or via a desktop app on Windows. The former is free and you can use it anywhere to handle PDF the way you fancy. You can do things like editing PDF Files, annotating PDF Documents, filling Out PDF Forms, creating Basic PDF Forms, Password Protecting PDF Files, Sharing Documents Online, viewing PDF Files among others.
PDFescape can be confusing particularly to new users who are looking to explore. Well, the tool comes with two options, a desktop version with free and premium versions not to mention the online version that is free but limited in functionality. The latter is good for reading, editing, creation, form filling, and annotation but only to files that are 10MB or less in size. Of course, the free PDFescape version is awesome but the premium version offers more for PDF users.
Download Adobe InDesign CC 2018
2. PDFelement 6
PDFelement 6 is a speedy, lightweight, yet surprisingly powerful PDF editing software. Now, this is not entirely free but you can always make good use of the free version to tap into the professional grade PDF features built into this tool. Well, it is arguably the best Adobe alternative keeping in mind that it allows you to create PDFs, edit and OCR PDF, review and annotate PDF, handle PDF forms professionally, Convert to and from PDF, add security features to PDF documents and much more PDF features for small, medium and large businesses. The user interface is also quite intuitive and you can navigate around to the PDF tools you want without having to do lots of Googling to guide you through. Again, you can always make good use of the trial version to get your simple PDF tasks done but you can always upgrade if you want to go pro. After all, it is even way cheaper than the likes of Adobe!
3. Inkscape
Inkscape is technically not a PDF tool, it is a vector editor for windows, Mac OS, and Linux. If you have ever used Corel Draw or Adobe illustrator then this is a similar tool thus it is basically made for designers but it has some free PDF editing options that you can use. This is especially the case if you are a Linux guy in need of quick PDF editing keeping in mind the limited number of free PDF tools on this platform. With this tool, you can be able to select any object on a PDF document, be it text, images, tables etc, then move it around your document or even delete it if you want to. The tool also allows you to annotate on your PDF document plus you can also draw freehand using an inbuilt pencil tool.
The community using Inkscape is also worth a mention as they will always come in handy if you need help and there are lots of video tutorials to guide you through.
4. PDF-Xchange Editor
This is a super cool PDF viewer and reader that comes with lots of free PDF functions to salivate for. PDF-XChange Editor was designed to succeed the amazing PDF-Change Viewer and the predecessor's design has been totally revamped, making it nicer and easier to use. The free option version will give you virtually every tool to work on PDFs offered by other premium tools including the OCR feature which can turn image-based documents to editable PDFs. The free version is also pretty good for data extraction, PDF form handling, PDF file conversion and PDF security not to mention that it has inculcated a data execution prevention to protect you from malicious scripts.
5. Sedja PDF Editor
Sedja is a free and premium PDF service that works from the cloud thus it's one you can always use for quick PDF projects anywhere. It is designed with simplicity in mind but this doesn't mean that it is the usual online editor that can get to frustrate you with lots of pop up ads. In fact, it is very safe to use Sedja online PDF editor for anything from editing & signing PDF files online for free, filling PDF forms, adding text, links, images or shapes to PDF and annotating PDF. Sedja is meant for a small range of PDF functions but it has put an emphasis on access and usability. The beauty is that it works well even if you are using mobile devices like phones and tablets. The online service is also quite secure while your PDF files aren't stored on Sedja's servers for the sake of security. This and other features mean that this tool is worth a try!
Related:  How to recover your lost data from hard-disk & USB drive
Free PDF tools can come in very handy for PDF users who are looking to work on quick PDF projects and what's amazing is the number of options available around. Competition among PDF tools has made sure that you can get a lot of good features with free PDF software without breaking a sweat. The five PDF tools stand a cut above the many in pool thus it's just a matter of picking the right free PDF tool that fits into what you are looking for and you are good to enjoy!