20 Best Free Photo Stock For Commercial use, Free images download
If you are looking for Best Free Photo Stock then you are in the right place.The Sites which I am introducing are under the Creative commands Zero Licence where you are totally free to use them even for commercial purposes. These free photo stocks contain the pictures of Girl, women, Business, Travel, Food, Computer, Office, Flower, Beach, city, Family, Love, illustrations, travel, man, dog, cat and many others. All of these images completely free with High-Quality Resolution for Designers, Creators, Programmers, artists and others.
Best Free Photo Stock For Commercial use
First I have Introduced and completely Explained about the Top 5 Free photo stock. I have included who founded them, what are the terms of usage, what are their sources and How many Photos they have in their Free Photo Stock Collections. Then I have only named the other sites which provide free photo stocks for people.
1. Pexels
Back in 2014, Bruno Joseph and Ingo Joseph, together created a site Pexels for Designers, Creators, Programmers, artists, writers and others to provide them, free photo and video stock. Currently, this Free Photo and Video stock are being controlled by Bruno, Ingo, and Daniel Frese.
Pexels Provides High-Quality free Pictures under the Creative Commands Zero (CC0) Licence. According to creativecommons.org, CC0 is a Public a free Distribution of content for Public and everyone free to use them, even in your business. The person who associated a work with this deed has dedicated the work to the public domain by waiving all of his or her rights to the work worldwide under copyright law, including all related and neighboring rights, to the extent allowed by law.
Currently, Pexels has more than 40000 Photos in their free photo stock collection where every month more then 3000 Images are added by their users and photographers. The sources of Pexels are their photographs and the licensed images from other sites.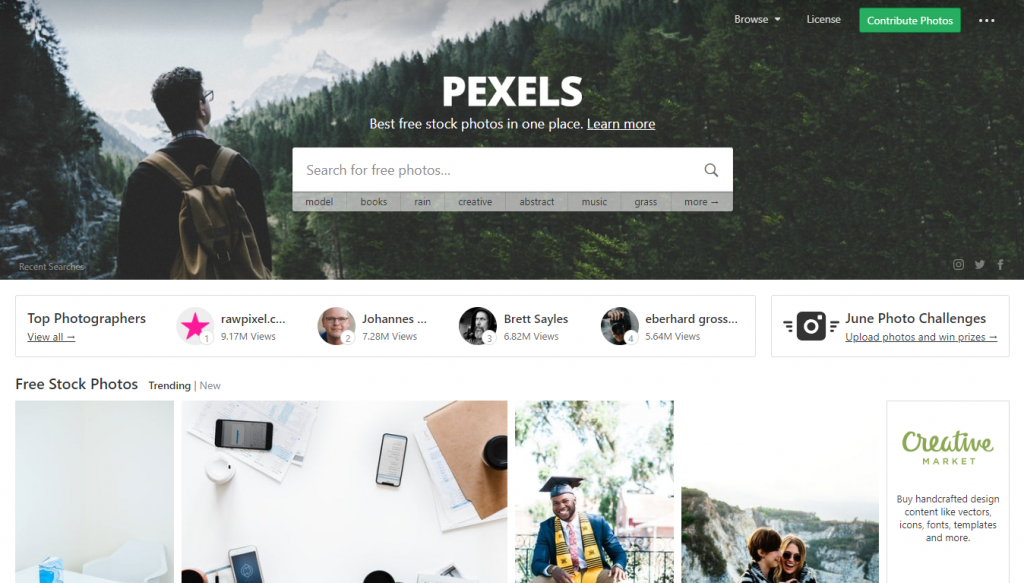 2. Pixabay
Hans Braxmeier the CEO and Simon Steinberger are the two big fishes behind the Pixabay. in 2010 these guys launched this free photo and Video Multilingual Site. Today it contains more than 1M free Photo and Video stock for Public.
The Pixabay License is also confirmed under the circumstances of CC0, where you are free to use them even for commercial. In the Pixabay Free Stock includes images, vectors, drawings, and distributions. The Pixabay free video stock covers the moving images, animations, films, or other audio/visual representations.
Use of Images and Videos Policy by Pixabay.
All the Images and Videos are released under the Creative Commons CC0. You are totally free to use them for your content or work, even if you want to use it for commercial purposes. Also, there is no need for you to link back to Pixabay.
But Please Be Aware of
Imagery depicting identifiable persons, logos, brands, etc. may be subject to additional copyrights, property rights, privacy rights, trademarks etc. and may require the consent of a third party or the license of these rights – particularly for commercial applications.
Images and Videos may not be used in a way that shows identifiable persons in a disgraceful light, or to imply endorsement of products and services by depicted persons, brands, and organizations – unless permission was granted.
3. Unsplash
Unsplash is mostly known by Free Photography Stock which was created by  Mikael Cho, Luke Chesser, Stephanie Liverani and Angus Woodman on 2013. Currently, this claims that they have more than 5 billion photos in their free photo stock collection. They also claimed that they have around 70000 contributing photographers which provides the image for their free photo stock.
Talking about the license, after 2017 Unsplash is no longer under the Creative Common Zero. But they have added on their New Privacy Policy, that anyone can use their free photo stock for commercial and non-commercial purposes.
Since it is under no Creative Common policies, I have no idea if you use them on your content what will happen.
4. StockSnap.io
StockSnap.io provides beautiful free photos with high Quality under the CC0 policy where no inbound link is required to add. I investigate too much But I couldn't find who was the founder of this free Photo Stock, but I found that Christopher Gimmer is the co-founder of StockSnap. This Free Photo Stock was Created in 2015.
As I said, this site is under the CC0 policy where you can use them for everything without asking. But in their terms of use they included, you can use them but they can't grant permission Ownership of the Photo.
Talking about the content, it contains pictures almost for everything, but they have not added how many pictures they have in their free Photo stock collections. Just like other free photo stocks you can sign up and upload the photo which you take.
5.LifeofPix
Life of Pix the last Free photo Stock Which I am explaining in detail. It also Provides Free high-resolution photos with no restriction. There is no information about their privacy policy on their site but I found on the about page which says, You can use life Of Pix Photos for Every Purpose which also covers the commercial usage.
This site also like Unsplash which has not include the CC0 Policy, but they said you are free to use. Another info which you must is about photographers. Life of Pix will every week 10 Best Photographers of the week and share their profile with their content on the social network and website.
I'm sorry, I couldn't information about who was the founder, which year it was created and most important how many photos they have in their free Photo Stocks.
other Free Photo Stock
The listed sites are not totally free, some of them have a download limit, some of them only provides some free photos then they will ask you to join the pro version. However, there are also sites which provide you with totally free photo stock.
Negative Space
Death to Stock
Picjumbo
Kaboompics
Startup Stock Photos
Freerange
LibreShot
Fancy Crave
SplitShire
HubSpot
Gratisography
Jay Mantri
ISO Republic
New Old Stock