Fast Convert, Compress, Edit & Download 4K Videos with MacX Video Converter Pro
MacX Video Converter Pro New specifications and video devices come out at full speed. Nowadays, the popularity of 4K videos is sweeping the world with its impeccable video quality. Everyone can get access to this video with the extremely high definition by shooting videos with their iPhone, Android, DSLR, GoPro, etc.
Related: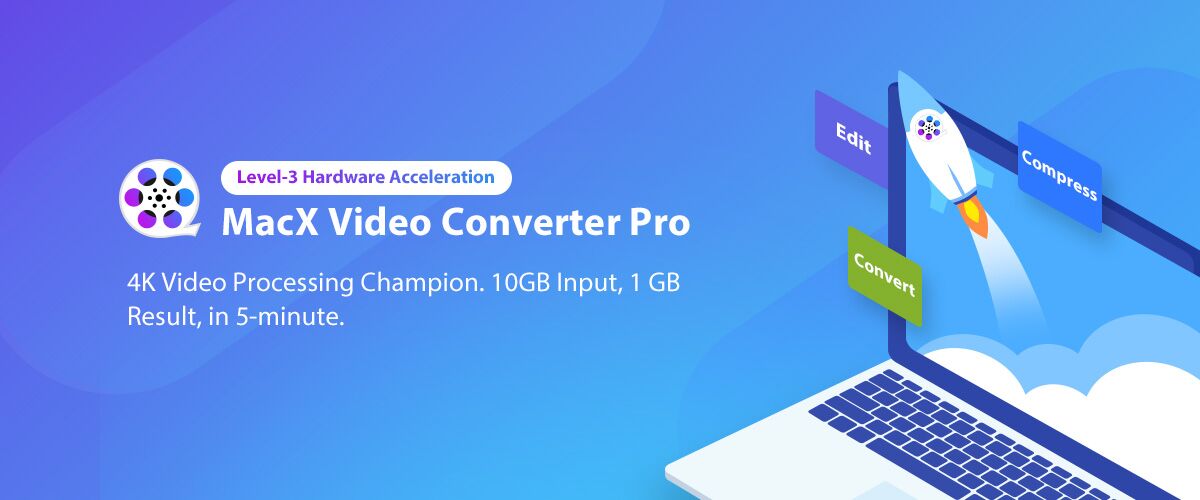 However, every coin has two sides. The problems of 4K videos arise simultaneously. Some 4K videos can't be played back due to format incompatibility and some of them can't be played smoothly on low-end TV or computer. Besides this headaches, most people are troubled by the bulky video file size. 4K videos with large-size not only take up your storage space but also require lots of time to convert and compress the file.
MacX Video Converter Pro full version
In order to process 4K videos at fast speed, a tool like MacX Video Converter Pro is the must-have. It is an all-in-one video converter, compressor, editor, downloader, and recorder, and stands out for its excellent performance in video compression. This program allows users to convert video to H.265/HEVC to reduce up to 50% file size with lossless quality. What's better, MacX is always regarded as the fastest 4K video processing tool ever so you don't have to worry about the processing time anymore.
Win prizes for video-shooting by taking a survey!
Sounds cool right? Now you have a chance to win MacX Video Converter Pro, GoPro, travel folding tripod and portable charger for free! Just take a 1-minute survey held by MacXDVD company and give your answers about video shootings.
What makes MacX Video Converter Pro so fast?
The answer is the unique Level-3 Hardware Acceleration Tech. The ordinary hardware acceleration tech moves high-definition video processing from CPU to specialized GPU/APU, which is more efficient than doing it only on CPU. Some video processing tools also take advantage of this tech but none of them go further than MacX. Its unique Level-3 Hardware Acceleration tech activates the Intel QSV/Nvidia/AMD hardware acceleration tech in every processing steps such as video decoding, video processing, and video encoding. As the result, MacX runs at least 5X faster than others.
MacX video converter pro free download
Real comparison examples show the speed of MacX Video Converter Pro in a more intuitive way. With Level-3 hardware acceleration disabled, it costs MacX about 20 minutes to process 4K video from MKV to MP4 (2.5GB, 22 mins). By enabling Level-3 hardware acceleration, the same operation is completed in just 4 minutes and 5 seconds. And compared to another famous competitor HandBrake, MacX Video Converter Pro is also far ahead. HandBrake needs more than 30 minutes to finish conversion cause its Mac user doesn't support hardware acceleration tech at all.

How to Compress 4K video with MacX Video Converter Pro
Step 1: Load the Video File
Launch this video reducer and click "Add File" to load the 4K video files you want to resize.
Step 2: Choose Output Format
To upload to the web like YouTube, you're suggested to convert the video to FLV; to send the video via email, select WMV as the output format; to playback on Android iOS devices, choose MP4.
Step 3: Tweak the Video Settings
In the settings window, you are allowed to adjust various parameters like Resolution, Frame Rate, Bit Rate, etc.
Step 4: Start to Compress Video Size
Click the "RUN" button to start to shrink video file size now. The video size reducer will compress 4K videos with original quality reserved.
Tip: MacX applies the Level-3 hardware acceleration tech on your Mac computer automatically to boost the processing speed.
MacX Video Converter Pro is a real Swiss army knife. You can convert a video to more than 200 formats to make video compatible with more than 400 devices like iPhone (X/8), Android, iPad and even PSP. On the other hand, a whole series of tools allowing you to edit video on Mac, crop, merge videos, add subtitles and watermark, adjust bitrate/frame rate is at your disposal. Best of all, MacX Video Converter Pro knows how to download 4K videos from YouTube and 300+ sites.