10 Samsung Smartphones in 2019
Samsung company has realized many smartphones that you want. It is the best smartphones which I searched between Samsung and other smartphones companies. However, I'll show you the best smartphones that you want to buy or it is your dream smartphones. First of all, I want to say that if you are a here my suggestion is to read the info of smartphones carefully. Because there are many swindler company that rob the Samsung mark, for sure I say about it.
10 Samsung Smartphones in 2019
In here I will introduce all 10 best Samsung smartphones which they are here let's go……….
10. Samsung Galaxy On6
Best smartphone which has many features that you want from it and you imagined this kind smartphone. Samsung Galaxy On6 is realized in 2018; this is for those that are smart and beautiful as well as this smartphone. these are about the introduction of this phone:
Infinity Display 14.25 cm (5.6″)
VIVID (Super AMOLED HD+ Screen)
Smooth
4 GB RAM/ 64 GB storage
Dual Sim
256 GB Expandable Storage
1.6 Ghz Octa-Core Exynos 7870 Processor
Face Unlock
13 MP(f/1.9) Rear Camera with LED flash
8 MP(f/1.9) Front Camera with LED flash
Live Stickers
Fun (every kind of Games)
09. Samsung Galaxy J6
New Smartphone Which I really suggest this for using in everywhere life. it is like your best friend that saves your all memory in its storage so be like it. more than these see the introduction below:
Maximize your viewing experience with infinity display with three colors (Gold, Blue and Black)
18.5:9 ratio
5.6″ HD + AMOLED Display
Rear Camera with Flash 13 MP(f/1.9)
Front Camera with Flash 8 MP(f/1.9) with selfie focus
Premium Build Security with Face Unlock
Finger Print Scanner
Dual SIM slot
32 GB internal Memory and 256 GB expendable Memory
3 GB RAM & 1.6 GHz Octa-core Processor
08. Samsung Galaxy On8
Galaxy On8 is best for those that they choose best and they have a good choice. This phone is a special phone design very beautiful and slim with all new Blue Colors now we are going to introduce it how it is the best of 2018 and the best of Samsung company:
15.36 cm (6″) Super AMOLED Display Infinity
Sleek Design $ Slim Bezels
8.2 mm Slim Unibody
Super Camera (16 MP(f/1.7) + 5 MP (f/1.9) Dual Rear Camera
Front Camera (16 MP = (f/1.9))
Face Unlock
Fingerprint Sensor
4 GB RAM + 64 GB ROM + Snapdragon octa-core Processor
Dual SIM and Micro SD
Latest OS Android O
07. Samsung Galaxy J8
Say to every One that our life is limited so we should use it till the time we can. This time I gonna introduce a smartphone which you ask that is it a smartphone or anything else?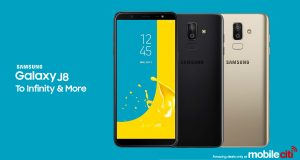 sAMOLED Infinity Display
Chat Over Video
Dual Rear Camera
Fingerprint Sensor
06. Samsung Galaxy A6 / A6+
Samsung Galaxy A6 one more best Android smart phone which designed by Samsung in 2018 for those who need this kinds of phone. It has their own fan and follower in everywhere of world which neither can stay quiet for this, this is a smart phone which all love this from long time ago; therefore still this smartphone has their own fan. It is the reason why all love this?
Stunning Super AMOLED Infinity Display
Translate with Bixby
Full HD Camera 16 MP(f/1.9)
Front Camera 8 MP(f/1.7)
Fingerprint Scanner
05. Samsung Galaxy A7
Wow What a smartphone!!! It is amazing and awesome smartphone. No I can take my self, I'll going to buy this one therefore I love it. and you?
introduction:
6-inch Infinity Display
3 Back Camera (24 MP(f/1.7) 8 MP(f/2.4) 5 MP(f/2.2))
4 Colors (Blue, Red, Gold and Black)
Fingerprint Sensor
04. Samsung Galaxy A8+
A beautiful smartphone with high quality of everything like camera, screen saver, color etc. that looks smart in any kind of hand either white or black. Me and you. How is it or not?
because most of the people around the world using smartphones but the choice of everyone is different. Now many of first countries are using the best of smartphones and Samsung Galaxy A8+ here is the introducing: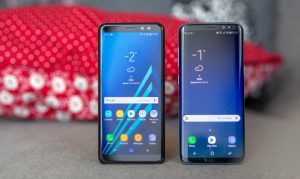 Infinity Display sAMOLED, 18.5:9
Sleek Design Glass & Metal
6 GB RAM
Dual Front Camera with Live Focus 16 MP + 8 MP (f/1.96)
Rear Camera 16 MP, f/1.7 for Low Light Photography
Dedicated SD slot/ Expandable up to 256 GB and Dual SIM
Bixby Vision (Extract Text)
Water Resistant IP68
Samsung pay The revolutionary way to pay
03. Samsung Galaxy A9
It is newest Smartphone then other smart phones which can be the best of all smartphones. Oh this is not a smartphone, it is better than a smartphone and have lots of functions and features that any other smartphones don't have you have test it by yourself. It has a huge storage and RAM that is great.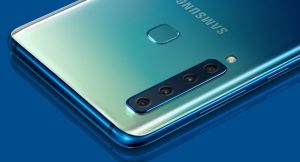 4 Back Cameras that has the 4x zoom out function (that's great)
02. Samsung Galaxy S9/ S9+
Hey is it Samsung Galaxy S9? I don't think so but it is the reality of course it is S9 we can imagine that one day we should have this one day. Probably and for sure it is fantastic smartphone that has beautiful shape and style that no other smartphones have.
functions and Introduction:
Top of the best Cameras function 4x slower and change like an sticker
Water Resistance
Infinity Display
The Best Quality of Sound
Fingerprint Sensor
Face Unlock
16 MP Front Camera(f/1.9)
01. Samsung Galaxy Note 9
Meet the new super powerful Note in your own life. hey it is really a nice and great smartphone that is the first in ranking of Samsung. Time for this Note can be the hope of everyone in the world. ho riding of this mobile and smartphone modify a best personality of a gentlemen.
The Features, Function and Introduction of Samsung Galaxy Note 9:
4000 mAh Battery for all day
Wireless Charger Duo
1 Terabyte Ready with expandable Memory
Cutting-edge Processor
8 GB+ 6 GB RAM and 512 GB + 128 GB Storage
Water Carbon cooling system
All New S Pen
Intelligent Camera with Dual Aperture
Bixby Function
Knox Mobile Security (Knox container + SE for Android + TIMA + Secure Boot and Trusted Boot and Hardware Root of Trust
This all about new Smartphones which product by Samsung in this year. You can do anything you want but I suggest most importantly that if you agree to buy mobile please read about any of them which you want the most. thanks for all of this that you are here with me. You are the Best and Good luck.