VideoProc: Process, Edit, Convert, Videos (Win GoPro 7)
VideoProc. Today, users who need to trim or edit video can choose from an impressive list of very different editors. If the task is only to "shorten" the video, then something simpler can be used. But if apart from trimming, some effects must appear on the video and the video sequence needs to be made more vivid and juicy, then you can't finish the tasks without a powerful editor.
However, when working with large video files, lots of videos slow down. This is because that processing large files like the 4K videos is a very CPU-consuming task. Luckily, the developers at Digiarty Software have created a solution that won't slow down your computer when working with large files. This application is called VideoProc.
In celebration of the release of VideoProc, the Digiarty company specially hold a GoPro 7 and accessories giveaway. Please visit this resize GoPro video page to take part in the sweepstakes.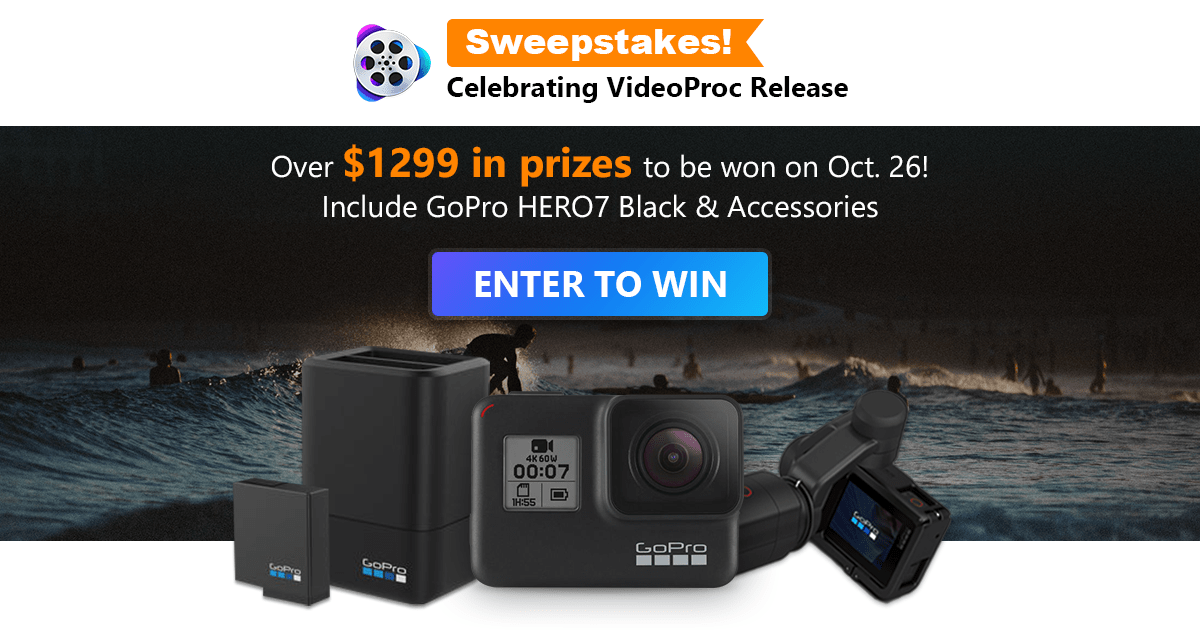 As for the application itself, VideoProc is a relatively simple video editor. There are no complex operations and settings. However, this does not mean at all that you can perform only the most basic operations with the help of this application.
In addition to trimming and cropping video, VideoProc allows users to adjust some video parameters. For example, make the video more stable, apply simple colorful filters on the images, or modify the brightness and contrast. The developers did not forget about the requirements of adding watermarks and subtitles to the video (ass, SSA and srt formats are supported). There is also a tool that allows you to work with sound. In particular, using this application, users can maximize the background noise.
However, the main feature of VideoProc is more than just video edit. This application was created primarily to quickly work with large video files and convert them to other formats. Due to the fact that the authors of VideoProc used the technology of Level-3 Hardware Acceleration, their utility can work much faster than its competitors with 4K video, long videos or video with a high frame rate (120/240 FPS). According to the developers, VideoProc can convert one format to another about 6-7 times faster than competitors. This speed saves us a lot of time.
We should also note that VideoProc supports a large number of different formats. Thanks to this, users can quickly convert video recorded on GoPro from HEVC format to more popular h.264 or AVI. Also in VideoProc, in one click, it is possible to prepare a video for playback on an iPhone, iPad or Android smartphone.
But that's not all. The application even allows you to download videos from popular sites (YouTube, Vimeo, Facebook, Instagram, and others), rip DVD discs and ISO images, as well as record your own computer screen.