Wondershare Video Converter Ultimate Review
Wow! I can't believe I am reviewing the Wondershare Video Converter Ultimate. It is my favorite video converter I ever used in my entire life.
Well, if you need a video converter software to convert Videos in different qualities I offer you the Wondershare Video Converter Ultimate.
Wondershare Video Converter Ultimate Features
1. Convert Any Video to Over 1,000 Formats
Well, the first reason on behave of the best video converter is that it can convert your videos up to 1000 video formats. These 1000 Video Formats are divided into below categories:
MP4
HEVC MP4
MOV
MKV
HEVC MKV
AVI
WMV
 M4V
XVID
ASF
DV
MPEG
VOB
WEBM
OGV
DIVX
3GP
MXF
TS
TRP
MPG
FLV
F4V
SWF
YouTube
Facebook
Viemo
The Videos which it converts can work on any device, however, you can also specify the video for any device such as the iPhone, Android, Tablet, HDTV, XBOX, VR, PSP, Insta360 and more.
2. Easy-to-Use Video Editor
Another Cool feature which the Wondershare Video Converter Ultimate has the editor tools while converting the video. The Basic tools such tools such as cut, copy, paste, crop, Brightness, contrast, saturation, Enhancement features and more.
Along these basic features, it has other features too, such as the Subtitle, Audio, Watermark, and effects. It has such well programmed that it identifies the audio is created based on which country.  Unfortunately, it has the feature to add another sound along with the real sound.
You can add subtitles, specify the color, font, transparency, outline, and position, but you won't be able to edit the text of the subtitle.
Watermark is so simple, just add a picture or add a text.
3. Add Files from other device and Camcorder
Another good feature is camcorder live your devices like Samsung, iPhone and more. directly import from there and convert to any format which you wish.
You can even load videos from CD and DVD, ISO and IFO to convert them.

4. Download
Another cool feature which it has the ability to download videos from any website. Just copy the video URL, and it recognizes that I have to download the Video. But I wish it would have a feature to let user himself paste the URL Manually.
Once the URL is specified it will ask you to select a Quality in order to download the video in that format. Such the screenshot where I am downloading the video called How to Install macOS Mojave on PC-Hackintosh? From IntoGuide.com on YouTube.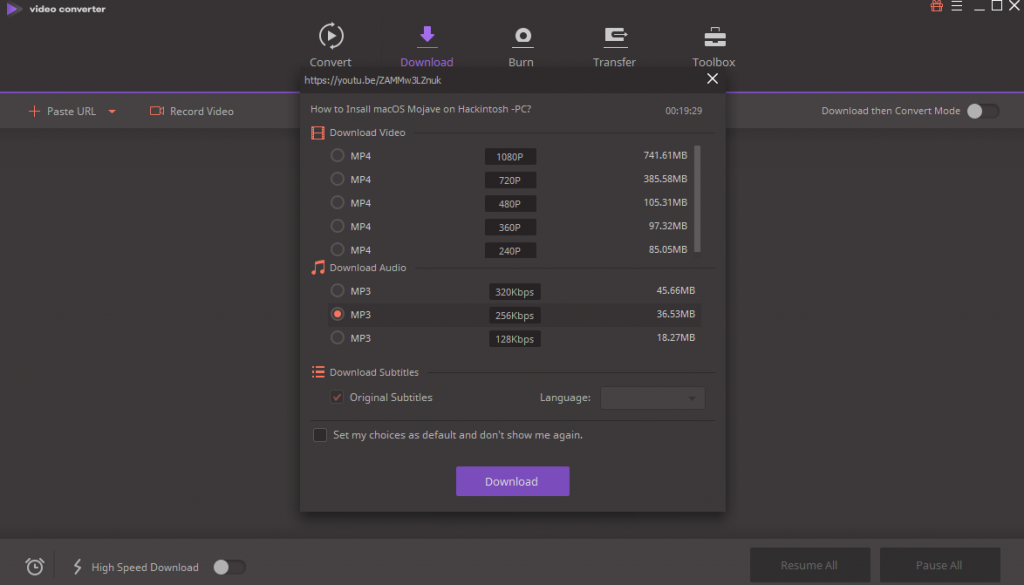 5. Burn Videos
I know the time the CD and DVD time has now passed away but still, if you want to burn the video or videos inside the CD/DVD you can do that Directly from here. You can simply select the files then burn that easily.
6. Transfer
You can transfer the video directly from here to other devices such as the Flash, Smartphone or Tablet. Simply connect them to the computer and do the rest of the job.
7. Toolbox
The toolbox is consist of Media tools and assistance tools. Media tools are the tools which will help you fix, edit or add information about the video on the metadata.
VR Converter is a set of new tools in this link where you can use it to convert the videos into VR devices format. The VR Formats which it supports are 360 degrees 2D, 180 degrees 3D and convert them to HTC Vive, Oculus Rift, and Samsung Gear VR.
Assistant Tools are set of the tools which can assist you for many things. Such as a Gif image then I will use that to create a Gif image. or If you don't have a recorder, you can also use it to record your screen.
However the recording tool is not too much perfect as the Camtasia Studio 9, but it is good for beginners.
–Preferences
Well, it has also set of preferences where you change the default settings as your own wish.
Also Read: Adobe Muse CC 2018 Free Download