5 New Technologies Will Make Life easier
Technology is the branch of knowledge dealing with engineering or applied sciences. We know that human being is facilitated much with the use of modern technologies. Life has become way too easy than it uses to be. The use of technologies is a great revolution towards success. We are having some rapid changes in technologies and plus that its use all around the world. Here are some 5 new technologies which are so simple and awesome to use. To make your life easier and cleaner, you can also consider placing smart trash can in your home to
Following are simple fascinating 5 new Technologies
1. Curvilux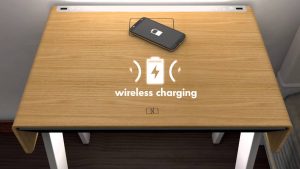 Curvilux is a furniture like device which is so easy to use and has made modern life look so easy and comfortable.
Curvilux is having the following features.
It has a wireless charger. It can keep all your electrical devices charged wirelessly.
It also has an alarm with its two bright LEDs and can wake you up as a fixed time. (sunrise alarm)
It is having NFC (Near Flied Communication), Bluetooth feature and stereo audio system which you can play your desired song.
Curvilux is having 2 USB jacks which also can be used to lock it's drawer.
2. Fontus
Fontus is a self-filling water bottle for your bicycle. This device collects the moisture contained in the air, condenses it and stores it as safe drinking water. Powered by solar cells, It can harvest up to 0.5-liter water in an hour's time under the right climate.
You can go anywhere and enjoy your adventure without thinking about water, All you need is a Fontus bottle.
Kristof Retezár a designer from Vienna invented the device that can extract humidity from the air and condense into fresh drinking water. You can fix it on your bikes. The handy gadget, dubbed Fontus, can be attached to a bike so that cyclists can generate water during long-distance rides through the countryside.
3. RocketBook Wave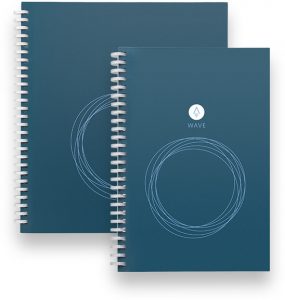 The way you take note is about to change. Rocket books is the first intelligent reusable notebook. You can write on it with a Friction Pilot Pen.
What you need is to write your notes on the rocket book and later on you can send all your notes to your iCloud or Email address.
Rocket book has made the Engineers, Architectures, Students and designers feel so comfortable having such a facility to complete their task on the same notebook time and again and save that to the their cell phones.
Seven same symbols are present on page of rocket book. 
You can download the rocket book app from your cell phone's app store than scan your note and than save your notes to your desired folder.
To remove the old notes you need to put rocket book into oven for some 5 to 10 minutes than you will have a brand new rocket book.
4. Edyn Garden Sensor
by using Edyn you can know exactly what is happening with your garden. The Edyn device pulls out data from your garden sensor to give you a snapshot of the current condition of your garden about its water needs, Soil nutrition, Water needs and change in weather that can effect your garden.
You'll never over water or underwater your garden again
Keep tabs on your garden with the Edyn Garden Sensor
conditions in your garden are constantly changing
Get tailored guidance based on your garden's conditions
Edyn's can advice us the best what we can do for our plants and gardens.
Know what will grow best based on your garden's unique conditions
Have an adyn device and discover information about your land.what kind of plant can grow on your land, keep providing enough water, know about the climatic condition of your land and garden all you need is an Edyn Garden sensor.
5. 3D Printing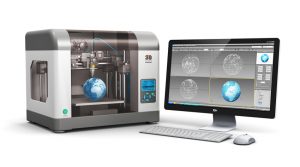 3D printing is that amazing new technology where you can take a 3D digital file and with a click of a button you can have the same file like an actual physical object.
How does a 3D Printer works:
3D printing or additive manufacturing is a process of making three dimensional solid objects from a digital file.
when you designed a 3D model now you need to print that file.
3D printing is based on layers. when you press the button the printer starts printing on horizontal layers and than form a complete structure.
To print a 3D model the printer has to pass through these steps.
Continuous Liquid Interface Production (CLIP)
Fused Deposition Modeling (FDM)
Fused Filament Fabrication (FFF)
Different types of FFF 3D Printers
Selective laser sintering (SLS)
Feel free to comment about 5 new Technologies. 🙂