How to Remove Acne Scars From Face?
Acne Scars
Acne scars is the skin disease in with pore of the skin swells, Causing a break in the follicle wall. There are many factors that cause this skin condition.
Acne can appear at any age specifically in adults during alteration of hormones androgen and consequent excessive production of sebum, Which closes the pores. This is why during the periods of hormonal change there is an increase in the appearance of acne. Like Menstrual cycles, Pregnancy and stress time in (Female) and more severe in men, Since the testosterone causes the sebaceous glands to increase more than need (male) other than this unsuitable makeup, Climatic conditions and Smoking can cause acne scares.
Natural remedy to remove acne scars
Tomato
Tomatoes contain a source of lycopene. Lycopene acts like a sunscreen, which has protecting property against UV Rays. Lycopene is an antioxidant which can easily be absorbed by skin. Antioxidants are important for skin because they combat free radical. Free radicals are the by-products or formed when oxygen is used by the body. It's highly reactive and can damages any living cell in the body. The skin suffers the additional condition because of sunlight, pollution, wind and temperature. The antioxidants provide extra protection against the environmental factors and also effective in slowing down the ageing skin.
Tomato and Honey Mask
Cut the tomato in to four pieces
Drop the tomato in to the boiling water for one minute (now peel the skin off the boiled tomato which would be easier when boiled.)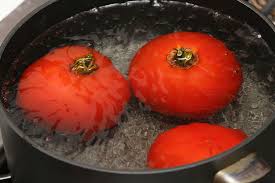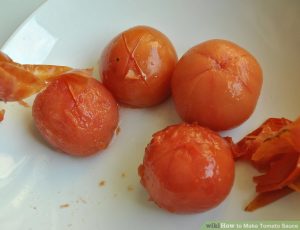 Scoop out the seeds with a spoon
Blend it or you can also smash it with fork
Add 1 tablespoon honey or (Cucumber, Yogurt, Oatmeal, Almond meal, Egg white, Avocado, Lemon juice, Lime juice, or Olive oil) can also be used instead of honey.
Steam your face before applying the mask
Apply the mask on your face and leave it on for 30 minutes to one hour.
Wash the mixture off with warm water and enjoy your clear radiant skin.