How Bill Gates Became a Legendary Leader
Bill Gates being as a Leader, is born or Made himself? Many people debates on many leaders that are they born Leaders or developed their abilities. So, The rise of Bill Gates is no different Many times Debates in many places. But in his case no one can say that he is born leader. But his work make him the best leader.
Following Ambition
Bill Gates loves to work on computer and learn programming. He was not one of the top students, but he Pursue that he must follow his ambition. That led many breakthroughs in his ambition, including the programming language BASIC and, later the MS-DOS program for IBM. It was only ambition and desire to let the foundation of Microsoft.
If you dare to Dream, then u will induce guts to fulfill that dream.Bring passion in your work. Do not stuck in a thing that u dont have interest. If you are just in it for the money, it will show. However, When you are doing just for money then its not the right step. Even you never can do it properly.
Working without Fear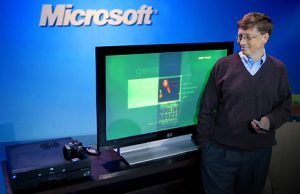 Gates knew that Success is a Path not a destiny its will take time and struggle. He did it, to make his name in the world of Known Businessmen.
A leader gets in, put himself in to the work. Leaders cant be succeed just by words. Leadership have to show action and passion to put the effort into turning that good idea into a sustainable Satisfaction.When Microsoft began gaining success, Even that time Gates worked long days and nights to understand the target audience and developing the products that would Bring business, education and consumer needs.
Stay positive and Looking forward
No matter how might difficult the situation but never back down, Never get down knee. Despite Gates' phenomenal success, he did have to contend with anti-trust litigation claiming that Microsoft was a monopoly. In 2011, after a 21-year battle in the court system.  Finally the case was put to rest after numerous threats to break down the company. Throughout the difficulties, He never stop working or thinking positively. He always worked for the future of his company. No matter what will the court say.
Constantly Learn and Achieve
Those who desire for more, and sets his Aim high, He who achieves success. Gates never satisfies. Gates Says:
"It's fine to celebrate success, but it is more important to heed the lessons of failure." He also suggest others: "Your most unhappy customers are your greatest source of learning."
Gates never put down his team in Microsoft even they held among the leaders. Microsoft team earned Multi millions Dollars.
Gates knew that, if he want to be ever green he must work with time. As, time passes needs of costumer changes. So As, To take the real need of people he have to work continuously.
As Gates said, "We always overestimate the change that will occur in the next two years and underestimate the change that will occur in the next ten. Don't let yourself be lulled into inaction."
Helping others by giving back.
A True leader is one who help other, even if its just guiding the true direction, imparting knowledge, and experience, or even providing the necessary resources that will improve the lives or careers of others. Gates has always proven a selfless approach to his leadership, spending huge money and time in philanthropic efforts to give to others. In return, as a leader, he receives happiness, satisfaction and respect. Gates providing benefits. Because he want to create the leaders of the future who will then shape the planet for our new generation.
He donated billions of dollar and created organization to help people.
Learn From Gates
People observes leader as fundamental. Many people who are smart, ambitious, and extroverted. However, it goes beyond these ingredients that may be part of a person's DNA.
Bill gates parents encouraged Gates to think independently and created his value system that appreciate hard work, ethics, consideration for others and determination. Gates worked hard days and night to pursue his ambition. He works not only for his ambitions but helps many people around world. Bill Created and developed new technologies and social sites. New ways of giving extraordinary facilities to this world.
Leadership style is best the one that makes real follower as gates have. Millions of passionate Entrepreneur follows Gates.  Gates provides an excellent model of how transformational qualities that can help and create a successful leader. But he also teaches as that single soul with true spirit can change the world.