How to Bypass Windows Admin Password with Boot CD or USB
Bypass Windows Admin Password and Forgot Windows password and can't get access to your admin account? How can I bypass Windows login screen without a password reset disk? Reinstalling Windows is the most common way to erase the password but it can result in the loss of all your data and applications!  Luckily, there are some password recovery utilities that can help you bypass Windows admin password with a boot CD or USB.
Method 1: Using Offline NT Password & Registry Editor
Offline NT Password & Registry Editor is a Linux boot CD that you can use to delete Windows local passwords outside of the Windows OS environment. However, Offline NT Password & Registry Editor is not so easy to use for an average user, because it requires some command line work. If you're interested in this utility, check out these instructions:
Related: How to change Windows 10 password via cmd?
1. To start off, download the CD image of Offline NT Password & Registry Editor and burn it to a disc.
2. Put the disc in the CD drive and restart your computer.
3. Once loading from CD, the screen will show the list Windows installations found on your hard drive. Type the number of your desired Windows installation and hit Enter.
4. Type 1 to load the SAM registry hive for editing.
5. Type 1 to choose the "Password reset [sam]" option.
6. Choose the "Edit user data and passwords" option.
7. Next, type the RID of the admin account that was locked out, then hit Enter.
8. Type 1 to choose "Clean (blank) user password".
9. Type q and then y to save the changes back to the registry. Reboot and Windows will automatically bypass the login screen and sign in to your admin account without asking for a password.
Bypass Windows Admin Password with Boot CD or USB
Method 2: Using PCUnlocker
PCUnlocker is another Windows password bypass utility that allows you to reset forgotten Windows 10/8/7/Vista/XP password easily. This utility comes with a simple graphical interface and even novice users can utilize it to solve all of the following password problems:
Forgot the password to the only administrator account on your computer?
Is windows account locked down or disabled?
Need to promote a standard/limited account to the administrator before Windows starts up?
Lost access to a local account, domain user or Microsoft account?
If you have some basic skills and managed to get your computer to boot from PCUnlocker Live CD/USB, there's no better password bypassing tool you can find. Here's a step-by-step walkthrough:
1. To begin, you need to create a PCUnlocker Live USB (or CD) from a second/alternative PC. Download PCUnlocker ISO image, and then download and install the free tool – ISO2Disc -for making a bootable disk.
2. Open up the ISO2Disc utility, click Browse to locate the PCUnlocker ISO file you've downloaded.  Select the "Burn to USB Flash Drive" option and click Start Burn.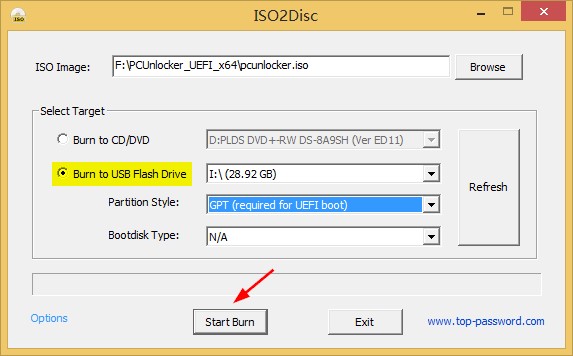 3. Insert the USB drive and boot your own computer from USB. To do this, you have to access the BIOS Setup and adjust the boot priority order to make your computer boot from USB first.
4. After booting from USB, a built-in password bypass tool will launch and you can then select any user account and click the "Reset Password" button to remove your forgotten password.
5. Reboot your computer and unplug the USB drive. The last step is to restore the boot priority order in the BIOS so your computer will boot from hard drive as normal. You can then log in to Windows without password!
Conclusion
Both Offline NT Password & Registry Editor and PCUnlocker are the most popular Windows password bypass tools available for you to unlock a password protected computer/tablet / laptop. No matter you forgot Windows password for whatever reason, don't blame yourself. Just follow this tutorial to make a boot CD or USB drive and you can reset forgotten PC password in minutes.