10 Free SEO Tools to Rank Number 1 on Google
Best Free SEO Tools and Free Google SEO tools
Everyone wants to Rank number on Google, but the question is how to rank number 1 on Google?
Well, there are many SEO killer tips and SEO Strategies which can help users to rank number 1 on Google. The SEO Tips to rank number is certainly the on-page SEO, 2000+ Words and using the related keywords inside their post. In fact, according to an investigation of Neil Patel, we find out that 85% of How to rank number on Google is on Page SEO. And between All One Page SEO Factors Reputation of Primary Keyword covers 40%, 30% User Experience and 15% is the Depth and Value of content.
Using the primary keywords is not too good and it may penalize you.
Another Keyword strategy which can rank your post Number 1 on Google is the SEO Tools. Users like Neil Patel are using buzzsumo, ahrefs SEMRush and other SEO Tools to rank number 1 on Google. But User who don't have a very good budget, they can use the Free SEO Tools to Rank Number 1 on Google.
If you won't believe me how I rank on first of Google, here are some of them. Search on google.
20 Best CDN Providers (Site-Technig)
best ways for secure file sharing (Site-Technig)
Create Your Own Business Cloud Storage Server (Site-Technig)
Install macOS 10.14 Mojave on VirtualBox (Site-IntoGuide)
Get macOS Mojave features on windows 10- (Site-IntoGuide)
There are many other Keywords which I ranked on Google, try the below Guide to Rank Number 1 on Google.
10 Free SEO Tools To rank Number 1 on Google
Yoast SEO Plugin
Google page insights
Google Search Console
Google Keyword Planner
Moz Free SEO Tools
Ubersuggest and Google Trends
SEO Site Checkup
Mobile-friendly Test
Keyword io
Screaming Frog
1.Yoast SEO Plugin
Yoast SEO plugin is a free WordPress plugin for Content marketing which is specially designed for WordPress users. If you are a beginner content writer and you are wondering How to rank Number one on Google, Bing, Yandex, Yahoo and other search engines, you have to use the Yoast SEO.
While writing a content, once you put your keyword inside the Yoast SEO, it will tell you to fix the errors for search engines.  If the guidelines turned Green, it means that portion is fine and you are ready to publish the post. If the color guideline isn't turned green you have to read the guideline and try to fix them.
With the help of Yoast SEO plugin, you can easily configure the Appearance of your post on the Search engines. You can set up the Keyword, Meta Description, URL, Headings, Alt Tags, Keyword density usage inside the article and many more.
For the first time when you have installed the Yoast SEO plugin, it will configure the XML-Sitemap by default. and each time you publish a new post it will update the XML-Sitemap. Also, you need to configure the Yoast SEO but the most important thing is the configuring the Search engines webmaster tools. Once you clicked on the webmaster tools, it will give you a code for verification inside your site.
Yoast SEO Plugin Also comes in premium version too, where it will allow you to use multiple keywords for one Article. This tactic will help you to rank number one google, bing, yahoo and other search engines. So, this was the first Free SEO Tools, to rank number one on Google, so let me know how you have experienced using the Yoast SEO Plugin and are satisfied with it or no.
2. Google PageSpeed Insights
The second tool which every online marketer is using is Google PageSpeed Insights. Google PageSpeed Insights is one of free Google SEO tools which helped many marketers to check the speed of their site. Google PageSpeed Insights shows exactly How fast your websites loads on Desktop and Mobile. If your site loads slow, Google PageSpeed Insights will have guidelines to fix the error in order to load your page fast.
Speed of the site really matters on behave of getting traffic to your site, if it wouldn't be, why there are the Content Delivery Network (CDN) companies. Also if you think, if your site loads slowly, it will make the user board and certainly they will hit the back button. Once they hit the back button, if your content is on the First page, it will go down. Because everything is reported instantly on Google, Bing and other search engines.
Always upload optimized images, what I mean is, the size of the image must be under 200 KB. If they the images are not optimized you have to optimize them with photoshop. If you don't have Photoshop skills, use the compressjpeg.com or Compresspng.com to optimize your images. And if you have decided to upload images without compress, you must use a CDN.
This was the second tool of Free SEO Tools collection to Rank Number one on Google. Let us know what is your experience on behave of using Google PageSpeed Insights.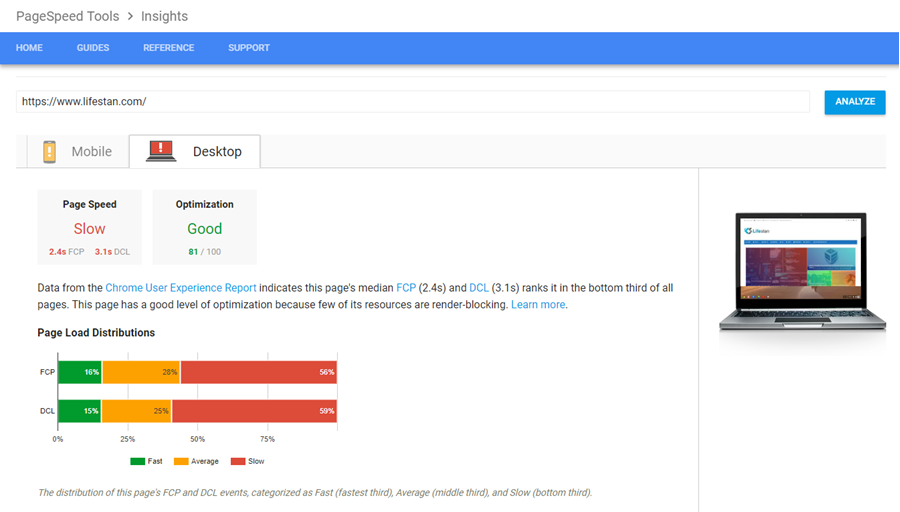 3. Google Analytics
Google Analytics is the third Free SEO Tools Collection which can rank Number 1 on Google. Google Analytics tracks and report your website traffic and even it tells you right now how many users are available on your site. The reason why many SEO Experts like Neil Patel says that your Post should be more then 2000+ Words is users should stay as much longer as they can. If the Post should be longer they will stay their more then browsing and it gives more value to your post to rank higher on Google.
When you are using the Google Analytics, it shows you how many impressions you're getting, how many clicks you're getting, which pages are popular, and it even shows you which keywords are getting a lot of impressions for.
When you find out those keywords which are getting Traffic to your site, add them to your other post or even inside the meta description of your site. I have used the same method on my site IntoGuide.com, and it has responded very well to getting Search engines traffic. You can also use those keywords or phrases inside the tags too for ranking on Google.
According to many many SEO Analyzer Software and experts, you have to use those keywords which are already ranked. You have to attach them inside your other posts, it means do link building and use them properly inside your posts. When I checked IntoGuide.com inside the SEO Analyzer on NeilPatel.com, I got the idea and when I added that to my site's meta description. I never thought it would get more search engine traffics.
4. Google Keyword Planner
Google Keyword Planner is the Best tool ever created by Google, I'm in love with this tool. Do you know how people are ranking first on Google?
Experts are using SEO Tools and SEO Strategies to rank on Google, they also recommend, create a post more then 2000+ Words to rank number 1 on Google. But the very first thing which they are recommending for everyone is a good keyword. And you can find those keywords through searching on Google Keyword Planner, browsing on Google, mixing the keywords and more.
Some people are doing smart works. Suppose you find out that the next Mac OS is macOS Mojave and before releasing of beta versions of macOS Mojave people are making their posts such as:
How to Create Installation media of macOS Mojave?
How to Install macOS Mojave on Virtualbox on Windows?
How o Install macOS Mojave on VMware on Windows?
How to Install macOS Mojave on PC?
How to Install macOS Mojave on Hackintosh?
How to Download macOS Mojave?
They are simply using the older versions of mac to create the post when the beta version is related they will update their post. The same thing goes with movie sites, before releasing of the movie. The keyword will be "Movie Name Free Download" they will simply include the trailer inside that. When the movie is released they will update the link.
The idea here is, before releasing of the movie they take place for the keyword and this How they will rank on google.
Some people are adding keywording without knowing SEO, and they will rank. So the only thing which matters is the keyword, you have to use Google Keyword Planner or Alternative methods to find a great keyword. When you find that, write about that post.
Backlinko has only 34 Article in his site, but he ranked for many SEO keywords on Google. He is investigating too much in a post rather writing multiple posts which should not get traffic.
Always make Quality content with a good Keyword rather writing multiple posts which not rank on Google.
5. Moz Free SEO Tools
Moz has founded in 2004 based on Inbound and Outbound Marketing and today it is one of the leading service providers. Moz Also provides very useful blog posts on how to rank on number 1 on Google and other SEO Strategies. Moz Provides 6 Free SEO Tools where we can use them to rank number 1 on Google.
Keyword Explorer
Link Explorer
MozBar
But those 6 Free SEO Tools, I am using only Keyword Explorer and Link Explorer. With Link Explorer, I am testing the broken links, Linking Domains, Inbound Links and most important How many Keywords are ranked in Google. I am also using it to see Top Followed link to the site with top pages on the site.
When I founded the Top pages on the site, I will start link building between them in order to get more organic traffic. In simple words you with Link Explorer you can check Inbound Links, Linking Domains, Anchor text, Top pages, Discovered and lost links.
In the meantime, for finding a Good Keyword you can use the Keyword Explorer. Once you inserted a Keyword you can check for the Monthly searches, it will also tell is it difficult to rank for the keyword or no, Organic CTR and priority.
The very good thing which I like most about Keyword Explorer is the Keyword Suggestions which helps me to choose a Great Keyword. It will also tell you who are the current sites who are have taken Number 1, 2 and 10 on Google. Once open their posts, read them, compare them, if you got a Good idea then write about that keyword in your mind.
This is How I am using the Moz Free SEO Tools to Ranks Number 1 on Google, let me know how you are using it to rank number 1 on Google.
6. Ubersuggest and Google Trends
Ubersuggest and Google Trends together are my favorite Free SEO Tools where I am using them to rank number 1 on Google. Ubsersuggest is a free SEO Tool where you can generate Keywords, keyword ideas and most importantly you can manage the search Volume of the keyword. On the other side, Google Trends is available where you can explore for keywords, compare keywords, find their searches in mentioned years.
How am I using Ubersuggest and Google Trends to FInd a Great Keyword to rank on Google?
When I am finding a keyword, I am putting it inside the Ubersuggest, first I will see its competition. If its competition was high, I will leave as it is. But When I see its competition is low, I am taking that keyword inside the Google Trends and meaning its search for last  6 months or 1 year. If its search was google I will use that keyword, if it was not I will mix that keyword with other keywords.
Benjamin Mahdi is an author of IntoGuide.com and He selected a Keyword of most awaited games of 2018. When I saw the keyword and the post I searched it inside the Ubersuggest, I saw there are people who had searched for PC Games and Gamers. So I mixed these two keywords with the First Keyword and the keyword look Most Awaited Upcoming PC Games For Gamers in 2018.
7. SEO Site Checkup
SEO Site Checkup is also one of the Search Engine Optimization (SEO) Tools which can Skyrocket Your Rankings if you use it smartly. SEO Site checkup is just like Google Analytics where you can use it to check your ranked keywords, meta description and more. The Difference between Google Analytics and SEO Site checkup is, Google Analytics lists all the information about your site with one report. But If you with SEO Site Checkup you can check them individually or at once, it is your choice.
The very good thing which I like about the SEO Site Checkup is individual checkings. I remembered back in the day which I had a website called techroze, its speed was too slow. I had remembered that most the images which I had posted into the site were more than 5 MB. But I didn't Remember which images were that so I have to optimize them. If your site such kind of problems, use SEO Site Checkup.
Features of SEO Site Checkup:
Meta Title
Meta Description
Google Search Results Preview
Most Common Keywords Test
Keywords Usage Test
Keywords Cloud
Related Keywords
Competitor Domains
Heading Tags Test
Robots.txt Test
Sitemap Test
Broken Links Test
SEO Friendly URL Test
Image Alt Test
Inline CSS Test
Deprecated HTML Tags
Google Analytics Test
Favicon Test
Backlinks Checker
JS Error Checker
Social Media Check
Html Page Size Check
HTML Compression/GZIP Test
Site Loading Speed test
Page Objects
Page Cache Test (Server Side Caching)
Flash Test
Image caching test
JavaScript Minification test
CSS Minification test
Nested table test
Frameset test
Doctype test
URL Redirects Checker
URL Canonicalization Test
HTTPS Test
Safe Browsing Test
Server Signature Test
Directory Browsing Test
Plaintext Emails Test
Media Query Responsive Test
Mobile Snapshot
Microdata Schema Test
Noindex Checker
Canonical Tag Checker
Nofollow Checker
Disallow Directive Checker
SPF records checker
8. Mobile-friendly Test
Do you know that 62% of people are using mobile devices to read but the other 42% remains for computers? so, most learners around the globe are using smartphones instead of a computer. you have to make sure your site is mobile friendly. What I mean by Mobile-Friendly Test, that your site must be responsive so users should see it better instead of zooming.
Mobile-Friendly is a Google Free Tool to check whether your site is Mobile Friendly or no, if it wasn't it will Guide through How to make your site Mobile Friendly.
9. Keyword io Tool
Keyword io is mostly known for Google Keyword Planner Alternative. when you ever you inserting your keyword in it, It gives you keyword suggestion. And the best is, the keyword which is suggested by the keyword is a long tail keyword.
Another feature which can be compared with Google Keyword Planner is a Platform search. I mean you can get suggestions for a Keyword like Free SEO Tools From Amazon, Wikipedia, Bing, Yandex, Pond5, eBay, Ali Baba and more. It means it can work for an e-commerce site, YouTube Channel and more.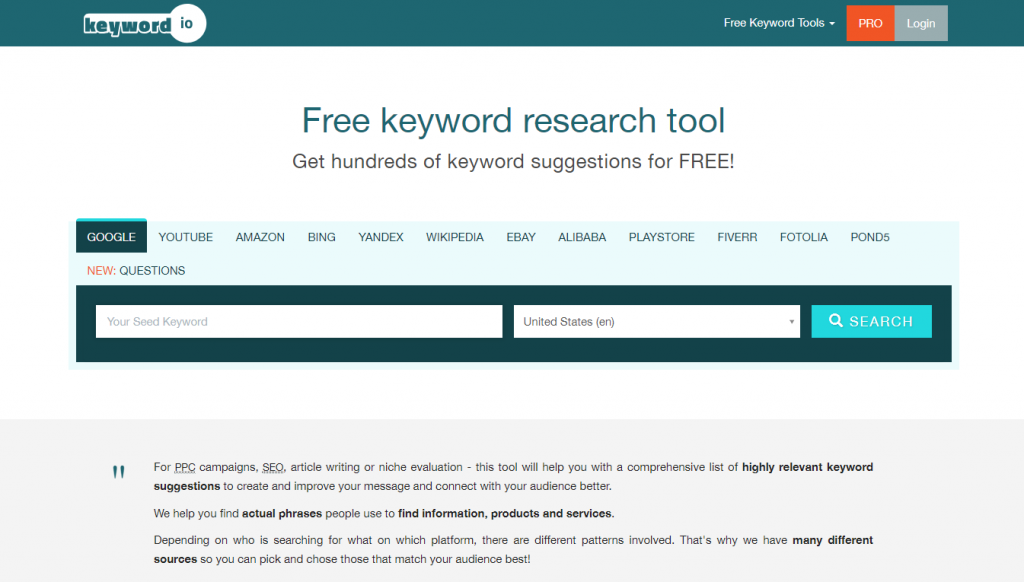 Everyone has their own usage, I am using Keyword io, Google Trends, and Google Keyword Planner together to find a good keyword. I am inserting a keyword in Keyword io since it is not the search volume I looking for it inside the Google Keyword Planner and Google Trends. I am checking each keyword on google trends and Keyword Planner, then I will choose a keyword.
10. Screaming Frog
Basically, Screaming Frog SEO Spider is a website crawler, that allows you to crawl websites' URLs like a search engine, identify common errors and issues and more. Screaming Frog is a super technical SEO tool. You put in a URL and it shows you every little thing that's wrong, from titles to headings to keywords to links. It analyzes every little thing from the super advanced technical framework.
If you want to find every type of error on your site, then you have to use the screaming frog tool. However, in free version it allows the users to check only 500 URLs. Once you downloaded and installed the screaming frog software, put in your URL, and it will check out every type of errors and problem.