How to Reset Forgotten Password of Kali Linux?
Have you lost your password of Kali Linux and you want to reset forgotten password of Kali Linux? Well, you don't have to worry Kali Linux makes it possible to recover and reset forgotten password of Kali Linux. Another useful information I may share is that if you only somebody's username on his Kali, you can simply enter his system without facing any difficulty and sniff what he has been doing – isn't in interesting? Enough of jokes! you might be desperate to reset your password and you might have spent much of your time doing it by your own. So, Let's explore it.
Before you continue check this useful articles.
How to Reset Forgotten Password of Kali Linux
We have arranged a very simple step by step process of changing the Kali Linux's password. You only need to carefully follow them. This will help you reset/change your password and exempt you from losing your tools and you won't have to reinstall it again. Let it begin!
Start your Kali Linux GNU Grub
Advance Options for Kali GNU/Linux
Press E
Type init=/bin/bash
Type password root and set the new password
Reboot
Step by Step Guide
1. Start your Kali and wait till the GNU Grub page appears.
2. Use the arrows to go down on the second option which is Advanced Options for Kali GNU/Linux and press enter.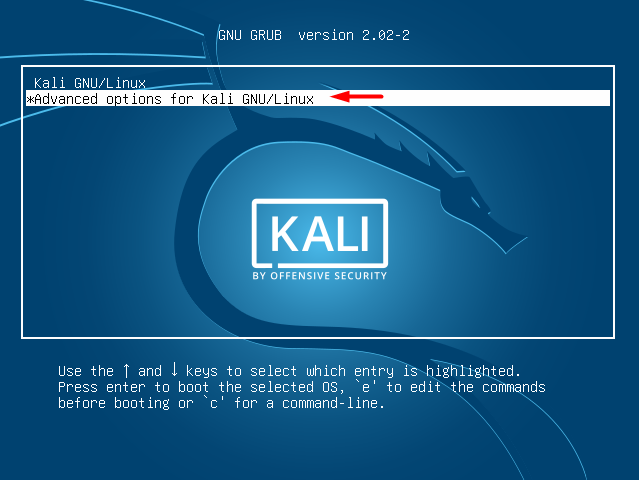 3. Now you see that you have two more options, move down on the second option which is Recovery. Press E here in order to edit or modify.
4. Then you will this page which is full of configurations, Go down using down arrow. Keep going down till you reach the echo and below it Linux. Just below this line, you will find "ro" which is read only, change it to "rw" which is writing mode. Then, go at the end of this line and type " init=/bin/bash ", and without doing anything or modifying anything else press F10 to reboot your Kali.
5. After some seconds your going to see this window. To change password type " passwd root " Then set the new password. You can see there are two place where you have to type the password, make sure you type the same password in both. If the update and password reset was successful, you will have "password Successfully updated"

6. Reboot and you will have your password reset. Now you will only have to login to your Kali with the previous username and new password.
We are Done!
Everything was explained in a very vivid and clear way. We hope that this article was of your use and it has helped you reset your forgotten Kali password. Please consider giving us your feedback. Do comment if any of the illustrated steps was not clear for your or if it didn't work for you so that we may find out a way to solve your issue.