Google Pixel Review – Google Launched New Smartphone
Google Pixel Review
Google has launched a new smartphone which is named Pixel, There is two ways to think about Android, generally speaking. Android is totally open platform that manufacturers can bend to fit phones, set-top boxes, tablets, TVs or basically anything, which users can further customize freely to their needs. The second is Google's mobile platform.
The new Pixel and Pixel XL take over from Google's mobile Nexus phone range and like other Pixel devices isn't cheap. But you can buy it at $1,079 from Google's Online Store it's no more expensive then flagships from Apple and Samsung. Google is using it's premium Pixel line to now not only highlight their vision for Android, but also to present an exclusive set of features that they hope will allow these phones to stand out.
Google Pixel Review Camera
The Google Pixel has a fantastic camera, especially in low light. It's elegantly designed. With a best-ever 89 DxOMark Mobile score, Pixel's camera lets you take brilliant photos in low light, bright light or any light.
Google Pixel Voice Assistant
Google Assistant takes one of the most natural, human approaches to answering to your voice, Have you watch Iron Man movies? The Jarvis voice recognition you'll experience like this.
Google Pixel Display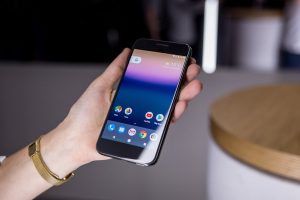 A brilliant AMOLED screen, with true blacks and 16.77 million colours. But the bad is Google Pixel's display is dim in outdoor sunlight and it's camera's Lens Blur feature is shoddy. It's splash-resistant rather than dunkable.
Google Pixel Processor
The Google Pixel XL is powered by 1.6GHz quad-core Qualcomm Snapdragon 821 processor and it comes with 4GB of RAM. The phone packs 32GB of internal storage cannot be expanded.
Google Pixel Battery Life
The Google Pixel battery life is nothing special. … The Pixel squeezes in a non-removable 2,770mAh power pack. That's bigger than the battery in the iPhone 7 (1,960mAh), but smaller than those in the Samsung Galaxy S7 (3,000mAh) and HTC 10.