Joysticks
The joystick is the video gaming sticks which is used to play some hilarious games. Joysticks are used to control all sort of features that a game has and you can also change the programming ability of each button by going through the setups. Looking towards the features of some of the joysticks features  I have selected top 5 joysticks.
Mad Catz Fly 5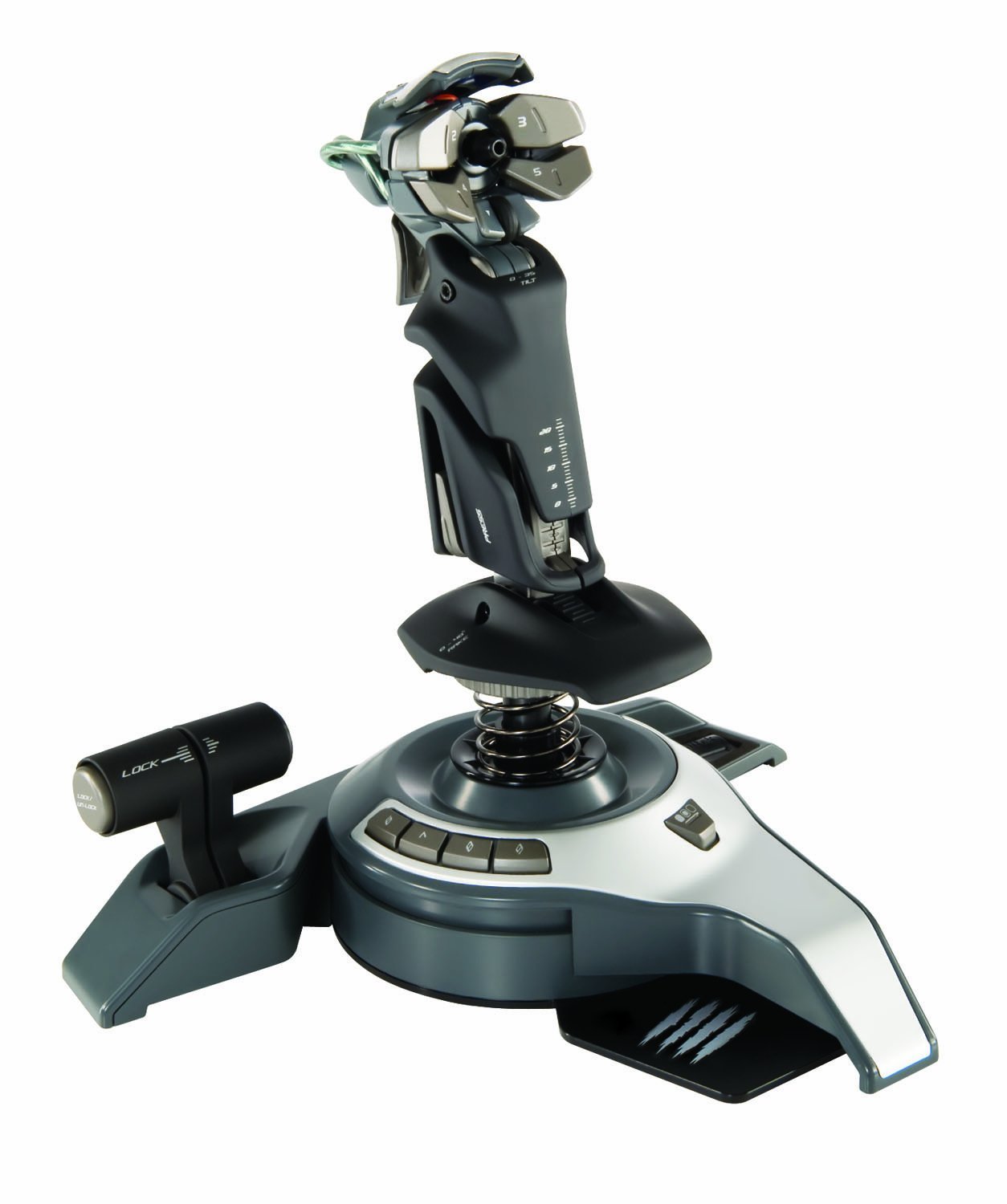 Mad Catz Fly five is one of the simple and interesting joysticks with all its awesome features I decided to put it among the top 5 joysticks.
It has 21 buttons Plus a shift button which can change all the programability of the all the buttons.
The base and the actual stick is separate before unboxing. it supported by a spring when fixed.
It is having a comfortable base which is sticks to the table.
The height of the base is almost 9 inches with 8 inches of the actual stick.
Mad Catz fly 5 has the best adjustability features.
With its adjustability tool, you can increase in height of the stick, you can bend the stick and the head of the stick as you want.
You also have 2 throttle gear, you can use them while aircraft games.
Logi-tech extreme 3D Pro Joystick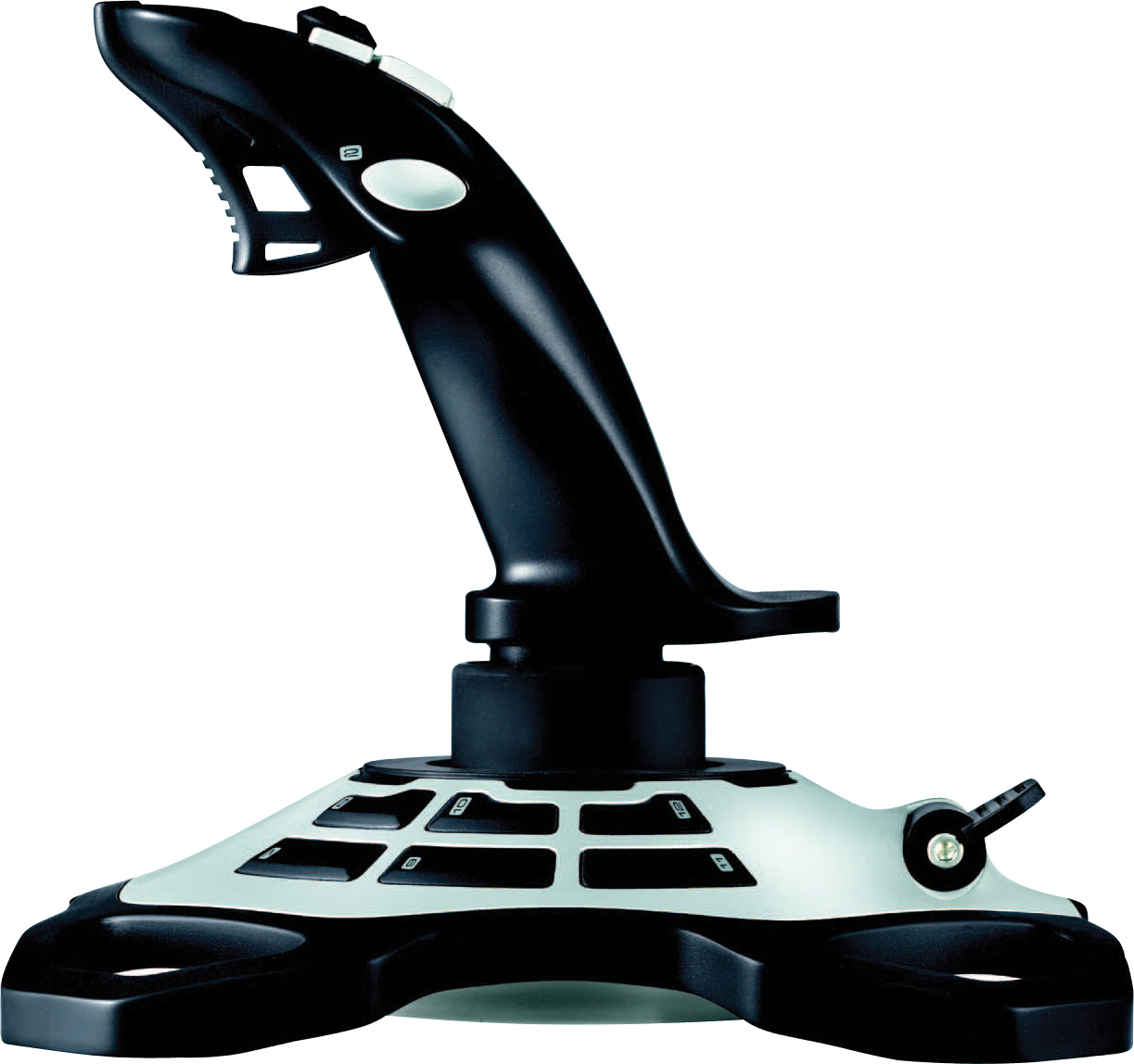 Logitech Extreme 3D Pro Joystick is probably a very simple joystick I assure you that is a cool device. You can enjoy all your desired games with this on your PC. You can access this device on windows 7, vista, XP/XP 64.
Among its specification Logi-tech extreme 3D Pro Joystick is a wide designed stable joystick.
This device comes with a CD ( Compact Disc )
You can connect it with the USB and no other things required.
with its 11 buttons makes this joystick simple and easy to use.
This is not having adjustability features so lads with small hands will face some problem.
Left handed people can also be comfortable while playing with Logi-tech extreme 3D Pro Joystick
It is also having small throttle lever for aircraft games.

Due to its simple and easy features Logi-tech extreme 3D Pro Joystick it is counted in the top 5 joysticks.
Thrust Master t16000m joystick
Improve your gaming experience with the ThrustMaster t16000m joystick. it looks a serious looking joystick but it so awesome and accurate. Its high level of accuracy makes it be counted in top 5 joysticks.
Thrust master t16000m joystick is having 14 buttons.
It is a little bit larger than the other sticks.
This can locate 16000 different positions, which increases in its good quality.
A good news for the left-handed guys that with its physical shape you can make it use for your left hand.
thrust master t16000m joystick does not need any kind of installation.
Those of you having a problem with its navigation system or in map understanding you may have the FSUIPC, where you can learn some navigating knowledge.
The smooth and pleasant output of thrust master t16000m joystick helps it to be counted in top 5 joysticks.
Thrustmaster HOTAS Warthog Flight Stick
If you were missing a realistic and strong joystick here you go HOTAS Warthog Flight Stick, it is probably one of the coolest joysticks. This joystick is approved by U.S aircraft.
The whole structure of the HOTAS warthog joystick is made of metal which makes it so strong and heavy.
This joystick is the resemblance of A-10c aircraft's stick.
This joystick weights 3 Kg which increase's in its stability features.
HOTAS warthog has 19 buttons.
4 direction hat switches, 2 push buttons, 2 pinkie push button, 1 metal trigger.
This has a separate throttle gear.
The realistic pressure on each button of the stick or the throttle pad makes Thrustmaster HOTAS Warthog Flight Stick be counted among the top 5 joysticks.
Saitek X52 Flight Control System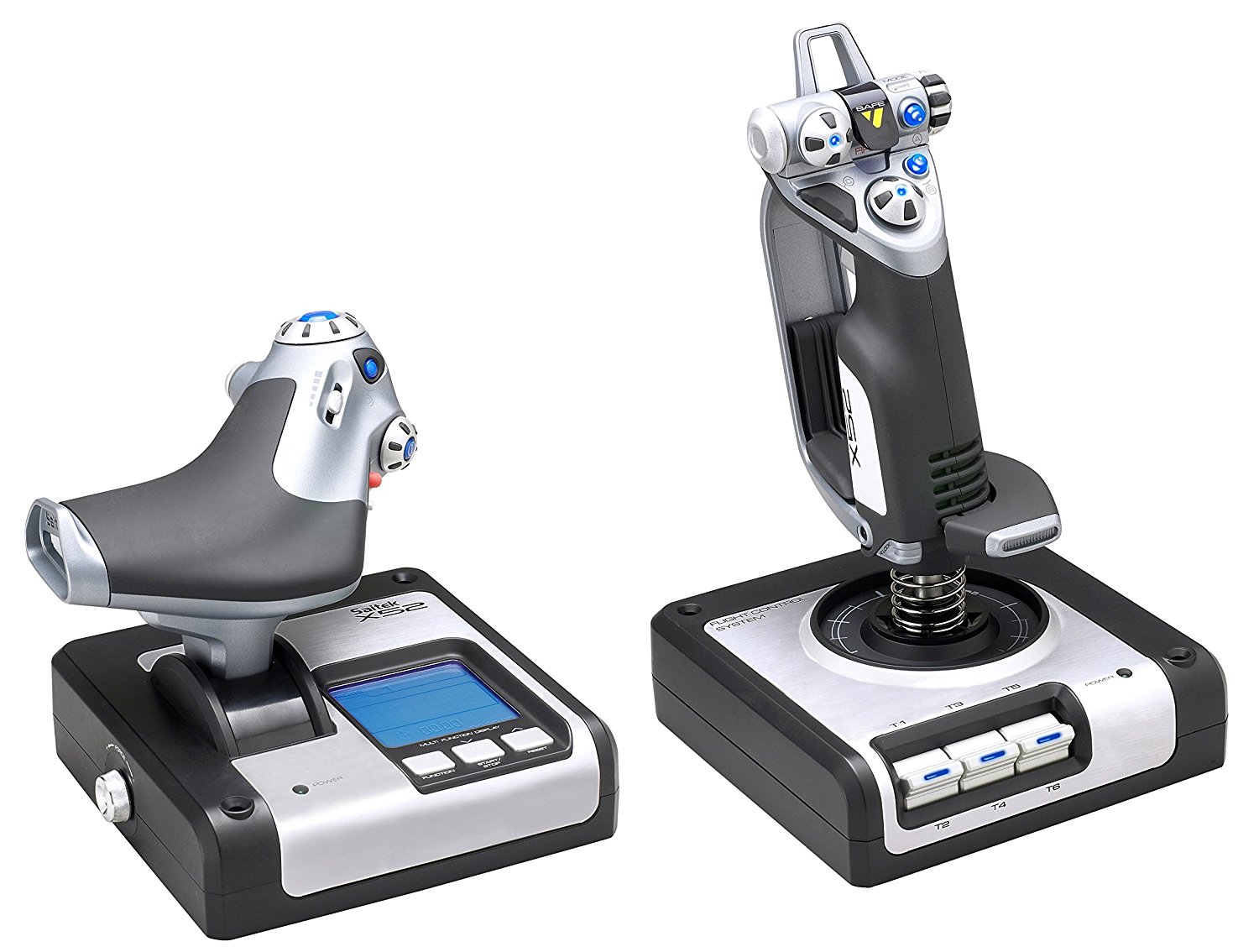 Saitek X52 Flight Control System is so cool and digital joysticks. Any changes you bring on the stick or the throttle base will appear on the LCD screen.
Saitek X52 Flight Control System has a hot and attractive outlook due to its rubberize layer on it.

It has 8 ways hat-switches, four weapon buttons and dual trigger.
The LCD it has is so helpful where you can check your mission's total time.
To the select, the option on LCD you also have a mouse feature Right and Left click
The stick has also a menu selecting feature.
The throttle button has two jog wheels, fire and eject buttons, and a scroll button.
The X52 is the best joystick for computer gaming.